How It Works
Choose a main dish and a side for $10.95. Add more side dishes for $3 or an additional main for $7.95.

Meals are delivered on Tuesdays between 6:00 pm - 9:00 pm with a text message alerting you of arrival. A $3 delivery charge will be added to your order.

Subscription auto-renews every Sunday at midnight of each week, so you have until then to modify, pause or cancel for that week.

Servicing Vancouver initially, with plans to expand soon.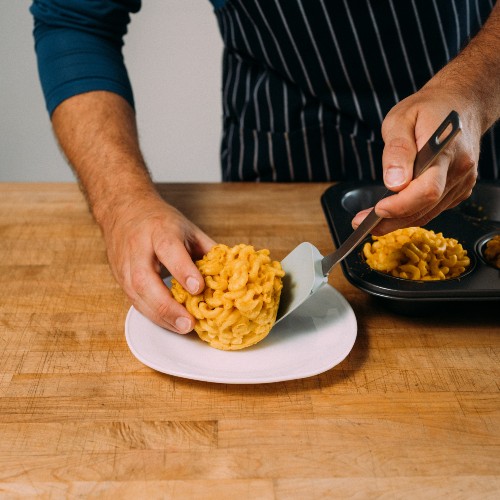 Macadoodles
(our most popular item)
A lunchtime favourite but sneakily packed with hidden veggies, these can be eaten warmed or at room temperature, making them an easy go-to.
Oh, and the noodles we use are healthier than your standard noodles, and naturally gluten-free.
Contains
| | |
| --- | --- |
| Macaroni made from white and brown rice, corn and quinoa | |
| | |
| | |
| | |
| | |
Did you know?
Where did the name 'Macadoodles' come from? Well, with the help of a special Vancouver girl named Nilla, we drew inspiration from that old kid's song about sticking a feather in one's hat and calling it macaroni.

Potatoes are a good source of resistant starch, which is not digested in the small intestine, but passes through to the large intestine, where it can feed the beneficial bacteria in your gut. Potatoes that have been cooked and then chilled - which is how our Macadoodles are made - contain the highest amounts of it.

Everyone knows that carrots are good for your eyes, but did you know that sweet potatoes are as well? One sweet potato gives you about 400% of your daily vitamin A needs.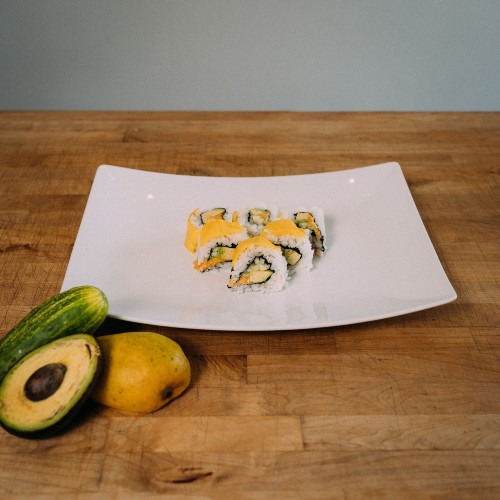 Sushi is high on the love list for kids and this roll doesn't disappoint. It's packed with vegetables and reminiscent of a California roll - but with mango as well!
Contains:
Did you know?
Heart of palm comes from the, you guessed it, palm tree and is full of potassium, copper and iron, helping to regulate blood pressure and red blood cell formation.

77% of an avocado's calories are fat - the monounsaturated kind that has numerous health benefits

One cup of mango provides nearly 70% of the recommended daily intake of vitamin C.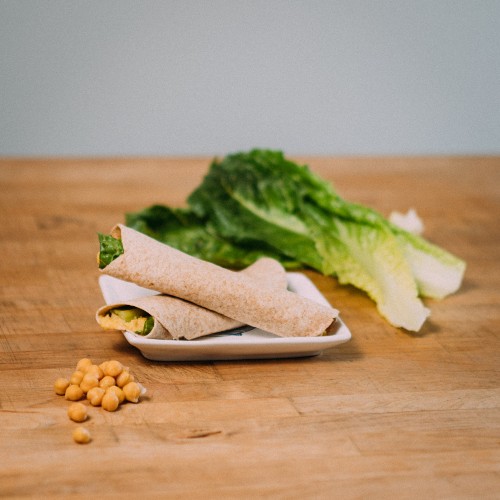 This tuna-salad-knockoff-but-wayyyy-better is even better than the original, pumping kids with protein, fibre and vitamins. We're confident your child will call this one a fave and you might find yourself stealing a few bites as well. 
Also, by serving them in two mini wraps instead of one, your child can eat them both or divvy them up throughout their day.
2 per serving.
Contains:
| | |
| --- | --- |
| Chickpeas, aka garbanzo beans | |
| | |
| | |
| | |
| | |
| |   |
Did you know?
Chickpeas have a low glycemic index as well as a starch called amylose, aiding in slow digestion and reducing blood-sugar and insulin spikes.

Pickled capers are packed with bioflavonoid quercetin which is good for your heart. 

Nutritional yeast, which is a complete protein and high in B vitamins, gives meals a savory, slightly cheesy flavour.

Sushi is high on the love list for kids and this roll doesn't disappoint. It's packed with vegetables and reminiscent of a California roll - but with mango as well!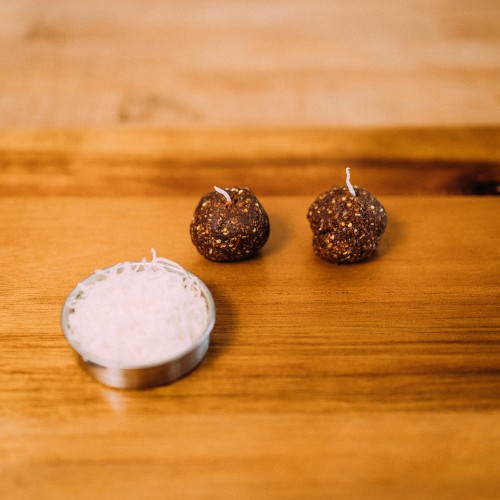 Named after a magical young girl here in Vancouver, these punchy power-ups are a perfect recess recharge.
Note - while these bombs contain only natural sweetness, they are definitely on the 'treat' side of the lunch equation. Kid testers gobbled them up so no need for any other sugary snacks in their lunch on this day.
2 per serving. 
Contains:
| | |
| --- | --- |
| | |
| | |
| | Coconut (just for the wick) |
| |   |
Did you know?
Among dried fruits, dates have the highest polyphenol content, which promotes good circulation and control blood sugar levels. Cocao is also high in polyphenols.

Oats are gluten-free, high in fibre and among the most nutrient-dense foods you can eat.

Millet, also naturally gluten-free, is rich in ferulic acid, which aid in wound healing skin protection and inflammation for your rough and tumble young'uns.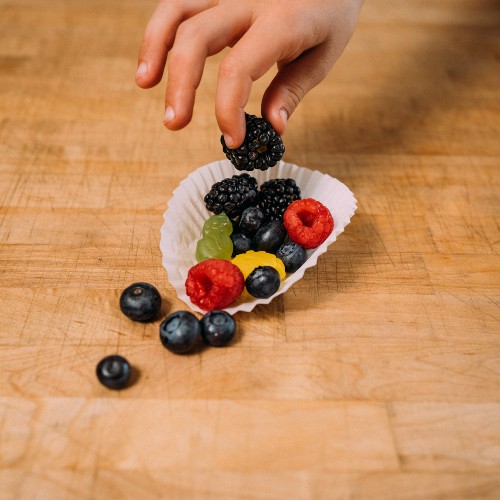 Fresh, seasonal and local, berries are one if nature's gifts to this region. And to stoke your child's exploration instincts, we've added a hidden treat in the pile.
Approx. 1/2 cup, or 25 berries in total 
Contains:
Did you know?
Raspberries have the most fibre of the four berries, with more than 3x that of strawberries.

Blackberries are packed with vitamin C, which helps with collagen formation in bones, connective tissue and blood vessels.

Blueberries are one of the best fruit sources of antioxidants, protecting your body from free radicals.
Children's first salad crush. But true to elemeno form, we've snuck in a little more nutrition - like roasted chickpeas in place of croutons - while keeping it fondly familiar.
Contains:
| | |
| --- | --- |
| | |
| Mother Raw non-dairy caesar dressing | |
| | |
| |   |
Did you know?
Romaine and chickpeas make for a good pairing: the lettuce is low in calories and fibre but high in vitamins and minerals, while chickpeas offer fibre and carbs to add natural fullness to the dish.

Chickpeas are a good source of plant-based protein and contain all but one of the essential amino acids.

Mother Raw is Toronto-based and uses organic and plant-based ingredients in their products. When testing various salad dressings, this one was by far our favourite.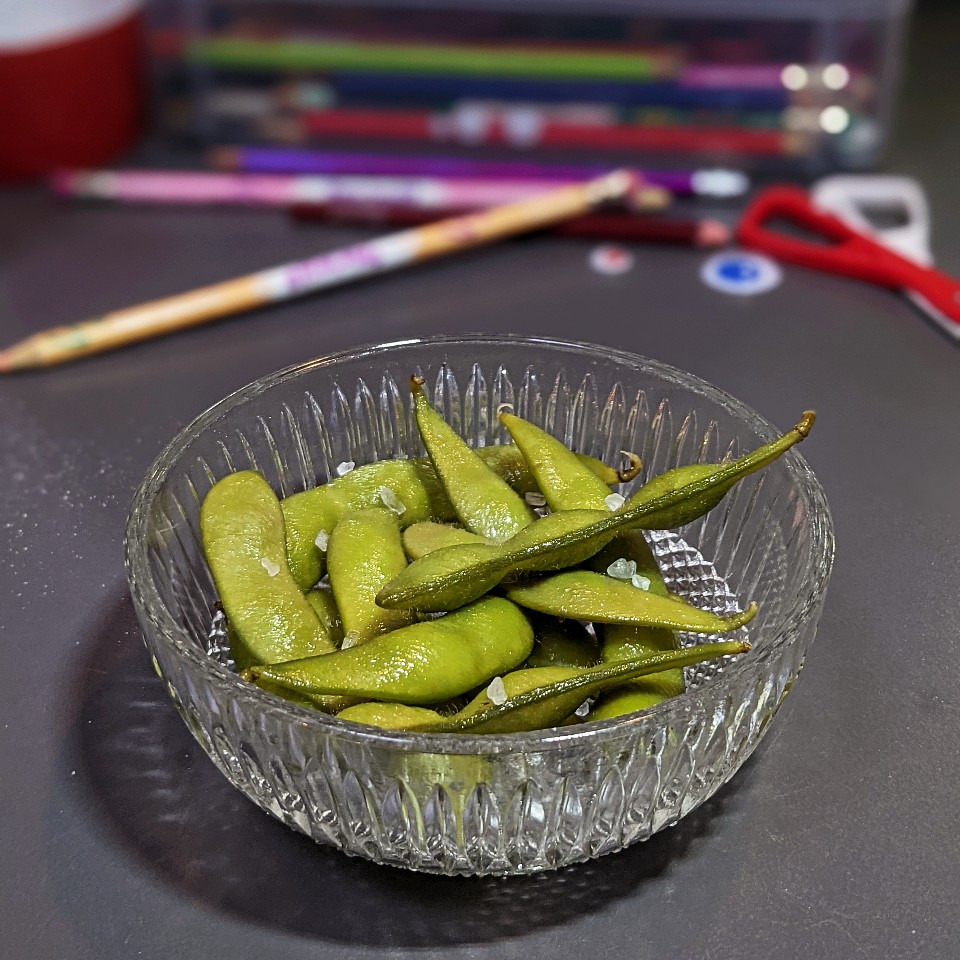 Sometimes simple is best. Edamame, touched up with some of the best salt on the planet - and it's pretty fun to say!
Approx. 12 per serving.
Contains:
Did you know?
Not only are edamame one of the best plant-based sources of protein, but they provide all the essential amino acids a body needs.

While Himalayan salt contains more than 84 minerals and trace elements than regular salt, it's important to remember that salt is a very limited ingredient and thus the health benefits are trace at best.