While I had a living focus group for kids lunches in my very own kitchen each morning, I knew I had to go beyond my own hunches and opinions. Thankfully, the parent community is not shy about sharing their thoughts and I am forever grateful for all of those parents that took the time to fill out my survey or speak to me directly. 
Here is a snapshot of what I learned:
Kids diets are changing
The days of pizza, pasta, fish and chips and chicken fingers are waning, as both parents and kids themselves are getting savvier to nutritional content and food sensitivities. Kids also seamlessly incorporate a range of ethnic dishes, and while not necessarily vegan or vegetarian, they eat plant-based meals throughout the week.
Oh, and sushi is universally loved.
Parents are more time-crunched than ever
Parents are constantly stretched for time, balancing work, extra curricular activities, and the busyness of urban life. While housekeepers, yard workers, nannies and tutors are common go-to time savers, there isn't much available for the daily grind of lunch-making (86% make their kids lunch from scratch or use leftovers each day).
Even through this pandemic, parents spoke about the challenges of virtual work meetings being interrupted midday "so I can figure out what to make the kids for lunch." In fact, many have had to cancel nanny and housekeeping services, which only adds more to the mayhem.
Current offerings are lacking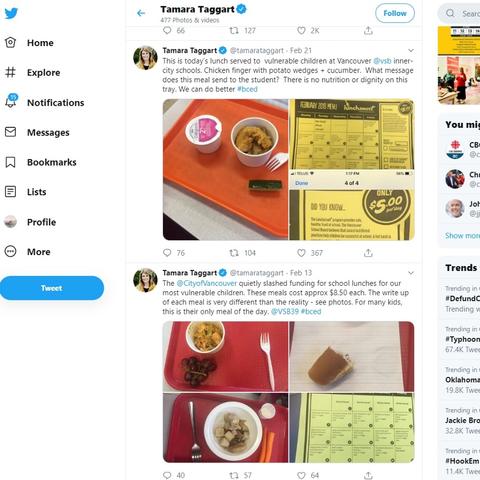 This tweet, by Tamara Taggart (@tamarataggart) - a powerful and respected advocate for health care, children with disabilities and marginalized people in Vancouver - inspired me to launch elemeno.
Universally, parents indicated that their lunch service provider had a frustrating user experience. Many of the providers use dated web ordering technology that is confusing and time-consuming. They lack images, nutritional content and sustainable packaging information, and because the parents never actually see the meal themselves, they have to ask their child if it was fresh, healthy, filling, etc.
Some services are too rigid in terms of customization or require ordering an entire semester at once. The system also puts a strain on parents and PACs directly, as parent volunteers are required to receive and distribute the lunches on school grounds. Finally, concerns over COVID have parents questioning the safety of food distributed at schools.
High adoption of meal services for the home
Whether meal ordering apps like Skip the Dishes, meal kits like Hello Fresh or grocery delivery like Spud, parents are using these services at a greater frequency. According to Statista.com, the Online Food Delivery industry (which doesn't include meal kits or groceries) is expected to generate C$3.6 bn in revenue in Canada for 2021, with 7.7% compound annual growth to 2024.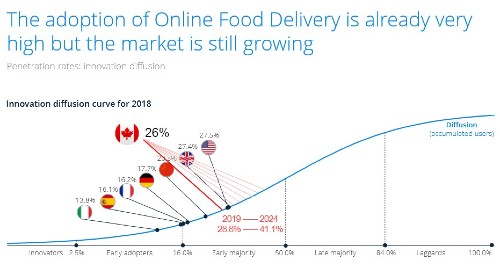 Online food delivery statistics, courtesy of Statista
Additional research from Statista:
Two largest age groups of users — 25–34 (30%) and 35–44 (24.4%) — overlap the typical parent age of elementary-age children
From my personal research, I found the following:
Meal delivery: 18.5% use it at least once per week and 39.5% use it at least once per month
Meal kit: 12% use it at least once per week and 14.5% use it at least once per month. Interestingly, nearly 7% use a meal kit twice a week or more compared to 2.5% that use a meal delivery twice a week or more, suggesting that meal kits have a lower penetration but higher recurrence (likely due to subscription packages).
School lunch services: 8.3% use them twice per week or more, 25% use it once per week or more, and 50% use it once per month or more.
In summary
Based on this research - combining macroeconomic consumer patterns with good old fashioned chats with parents - I'm certain that the kids lunch scene needs to be re-imagined. 
Care to share your thoughts on this? Or have a business that might wish to work with elemeno? Contact me at ryan [at] elemeno [dot] co.